You could get help elsewhere. Why us? Fair question!
Below, we'll show you how our team can make your life easier at the same time it builds your business. Sure, there are other marketing firms and not ALL of them are horrible but here's a slam-dunk case for us.
Short attention span version
Laser-focused on helping you prosper
Extraordinary depth of experience and expertise
Complete spectrum of marketing services
Tool/tactic agnostic
Flexible working arrangements
Our clients are SMBs who need to focus on running their business.
It's not that they don't care about marketing—they know it's important. Many have tried adding marketing to their sales team's duties. Some have a marketing team on staff. But even diligent in-house teams find it impossible to match the bandwidth and breadth of expertise that an outside firm (like us!) offers.
You'll be delighted, but not surprised.
When our clients love our work, it's not merely because we're presenting them with effective tools to build their business (which is nothing to sneeze at). It's because they've been involved throughout the process. Our work gets results because it's not just our work—it was developed in close collaboration with our clients, whose intimate knowledge of their business is the lifeblood of a vital marketing program. This close working relationship also means our clients are aware throughout the process of estimates, budgets and schedules, so they know what to expect and when.
"Thank you for everything y'all do for us. I credit much of our success to our partnership with you."
Steven Tomlinson, Level Seven Facilities Services
We've walked a few thousand miles in your shoes.
Many of us—including members of our senior account team—have experience on the client side. Their years dealing with marketing partners give them perspective of immeasurable value. They understand what it's like to be answerable to multiple stakeholders—and they know how a marketing firm can ease those pressures and deliver value that is clear to everybody involved.
We honed our skills on big brands. Then found our calling with SMBs.
Members of our senior team spent decades working for major brands in multiple categories. Now we find great satisfaction in putting those skills to work for smaller companies. It gives us a chance to make immediate impact on our clients' business. It's why we got into marketing, and why we love what we do.
"So appreciate you guys and the hard work! You're making us smarter!"
Kristie Mitchell, Biscuitville
Here's how we structure our relationship:_________________________.
You name it. We work the way our clients need us to work. If they're asking for a single flyer for a trade show, we're on it. If they're looking for ongoing support that includes brand strategy; ongoing SEO and website updates; website overhauls; and long-term initiatives to achieve market goals—we do that, too. However we serve clients, it never involves a long-term contract. Our performance is what bonds us to our clients, not a legal document.
What do you need? (Any answer is good, including "I don't know.")
Your request can be unspecific: "I want to smite my competitor." Or "I want to rake in more revenue." We serve our clients with strategy, which always begins with asking "What are you trying to achieve?" With a clear answer to that question, we select the most effective (and efficient) tactics to reach the goal. Our solutions are not skewed to a particular tool or method because we are a full-service firm, able to provide results without bias.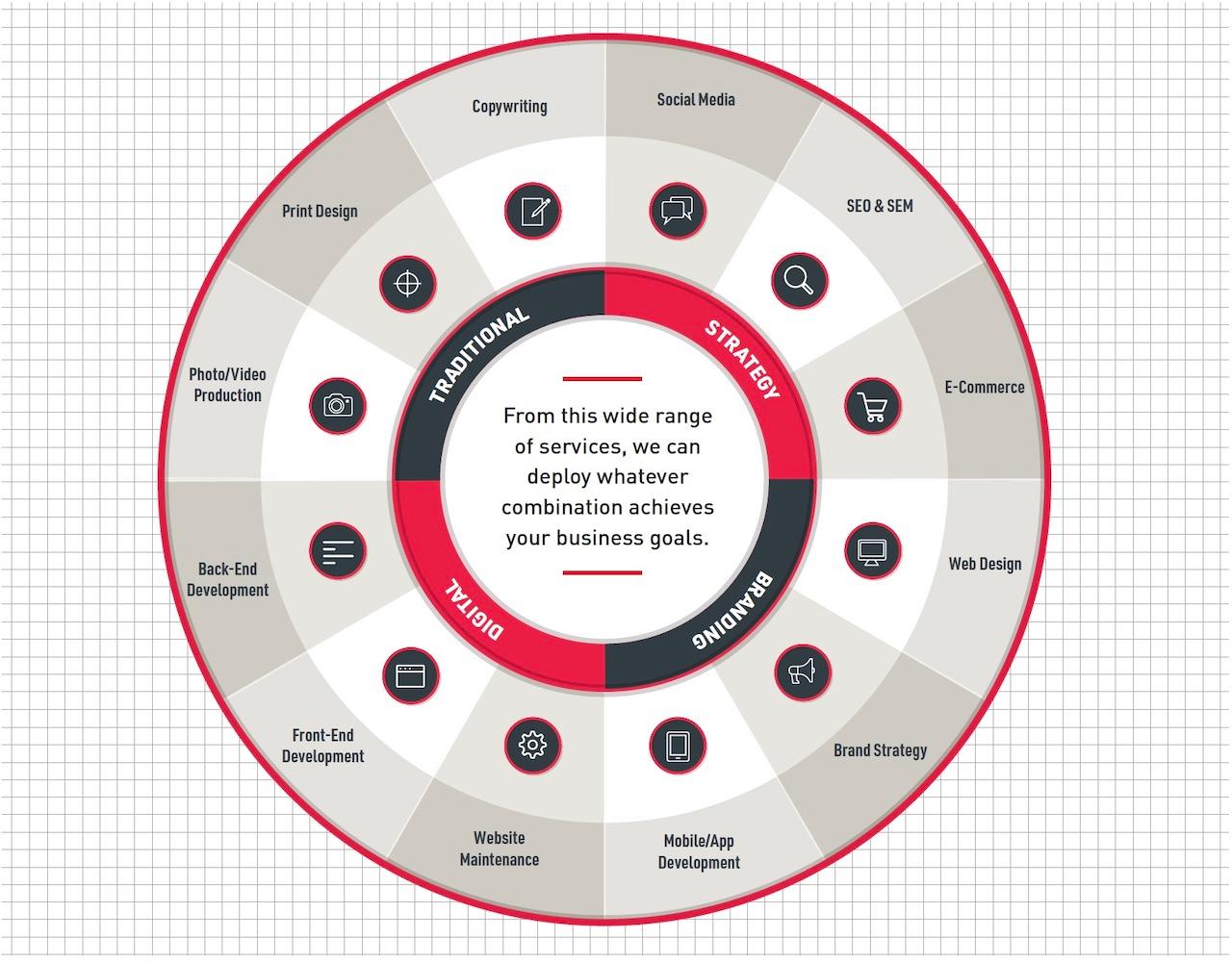 Our comprehensive range of services means we can use the most effective tools to achieve business goals.